CERTIFIED SERVICE SPECIALS - EXETER, ON
Whatever you drive, we can help. Bring in your Chevrolet, Buick, GMC, or Cadillac vehicle today and our factory-trained service technicians will take care of you. Browse the Certified Service Specials available this month at Huron Motor Products.
Huron Motor Products services all makes and models.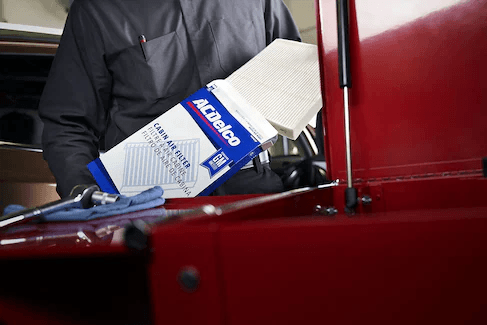 The filter should be replaced every 36,000km, as outlined in your owner's manual. Schedule your visit with a Certified Service expert today.
$49.95*
* Instant tire manufacturer rebates are available when you purchase 4 identical eligible tires. Rebates can be combined with Scotiabank® GM®* Visa* Card $150 instant rebate but cannot be combined with tire manufacturer mail-in rebates. Instant rebates available: Up to $40 from BFGoodrich, $50 from Michelin, $70 Pirelli, $50 from Continental, $70 from Bridgestone, $40 from Goodyear, $40 from Firestone, $35 from General tire, $40 from Uniroyal. Offer valid from April 1, 2021 to May 31, 2021. This offer is non-transferable. Conditions and limitations apply, see participating dealers for details. No rain checks available. This offer may be changed, cancelled or extended at any time without notice.
1THE SCOTIABANK® GM® VISA CARD: Special 90-Day No Interest, No Payment Purchase Financing Offer and the Scotiabank GM Visa Credit Card Account (the "Account"): This 90-Day No Interest, No Payment purchase offer (the "Financing Offer") is available on the Account on new purchases of $250 or more (after taxes) made at participating GM Canada dealerships. No payments are required on the amount of the promotional purchase (the "promotional balance") under this Financing Offer during the 90-day promotional period. Maximum of 6 Financing Offers can be on the Account at any one time. If you make a product, parts or service purchase at a GM Canada dealership and already have 6 Financing Offers on your Account, that purchase will be treated as a regular purchase. You must pay the promotional balance in full by the promotional end date to avoid any interest on that balance. After the promotional period ends, any remaining promotional balance is then charged interest at the interest rate that then applies to purchases on your Account ("Purchase Rate"). The annual interest rates on the Account are currently: 19.99% on purchases and 22.99% on cash advances (including balance transfers, Scotia Credit Card Cheques and Cash-Like Transactions). Annual fee is $79 for the Scotiabank GM Visa Infinite Account, $79 for the Scotiabank GM Visa Business Account and $0 on the Scotiabank GM Visa Account. If you do not make your Minimum Payment each month, the Financing Offer may be terminated by us. The Financing Offer will immediately end and your Purchase Rate will increase to 24.99% on purchases, including any balance remaining that is subject to this Financing Offer, for at least 12 months starting with your next statement if, including during the promotional period you miss making 2 minimum payments on time in any 12 month period. At the end of the promotional period, any remaining promotional balance will form part of the New Balance on your Account and will form part of the Minimum Payment you must pay each month. The Revolving Credit Agreement will continue to apply to this Financing Offer. Financing Offer and all rates and fees on the Account are subject to change. The Bank of Nova Scotia is not responsible for any purchases (including warranties) made by you at your GM Canada dealership relating to this Financing Offer.
2Plus HST. See Huron Motor Products for full details. Or call us at 519-235-3483 (Service Department Direct Line). On For a limited time.