VEHICLE HEALTH CHECK
IN EXETER, ON
MULTI-POINT VEHICLE HEALTH CHECK
Just like regular oil changes, a Vehicle Health Check is an important part of your vehicle's maintenance schedule. An inspection every six months is required, as per your vehicle Owner's Manual. It's a multi-point inspection of your vehicle that helps you protect yourself and your automotive investment.
Vehicle Health Checks mean peace of mind and we've made it easy to schedule your Vehicle Health Check online.
WHAT WE WILL CHECK IN A VEHICLE HEALTH CHECK
You trust your tires to keep you on the road, and us to make sure they're balanced, aligned and in good condition.
Remaining Engine Oil Life
Helpful when approaching your next oil change, this vehicle inspection determines the remaining oil life percentage.
The braking system is inspected, which includes lines, hoses, parking brake and measurements of the front and rear linings.
Wiper Blades and Glass Condition
To avoid possible damage, the windshield is inspected with the front and rear wiper blades, making sure they work when needed.
Battery Condition and Connections
The battery's health, remaining life and cable connections are tested and visually examined in the car inspection.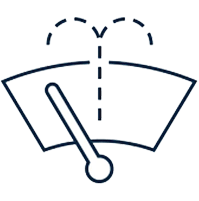 All fluids, such as brake reservoir and windshield washer fluids, are checked to be sure they are at optimal levels during the car check.
VEHICLE HEALTH CHECK OFFERS:
HAVE A SERVICE QUESTION?
Do you have a question for our service team? Fill out the form below and a member of our expert Certified Service team will get back to you as soon as possible.