Oil Changes In Exeter, ON
OIL CHANGE & ENGINE OIL LIFE SYSTEM
Your engine is the heart of your vehicle, and oil is its lifeblood. Your Chevrolet, Buick, GMC, and Cadillac Certified Service technicians are trained to understand how your vehicle uses oil and how it monitors oil life. An oil change from your Certified Service experts At HMP not only gives you great service, convenience, and a great price, you also receive the added value of knowing that nobody knows your vehicle better.
Make Sure To Check Your Oil Level
It is important to check your oil level every once in awhile. Consult your Owner's Manual for the proper procedure to check your oil level.
Select The Correct Oil For Your Vehicle
From conventional to full synthetic, your Certified Service experts can offer you helpful advice on a range of oil types, including ACDelco Conventional Oil and ACDelco dexos1™ Gen 2 Full Synthetic. Huron Motor Products Certified Service experts will always know the right grade of oil to use for your specific vehicle.
ACDelco Conventional Oil
ACDelco Motor Oil only meets pre-2011 GM standards.
ACDelco dexos1 Gen 2 Full Synthetic
Dexos1 Gen 2 full synthetic oil is specifically engineered for Chevrolet, Buick, GMC, and Cadillac vehicles.
Engine Oil Life Monitoring System
GM vehicles are equipped with an engine Oil Life Monitoring System. This system interprets your vehicle's speed, engine temperature, personal driving habits, and continuously monitors operating conditions — which helps determine when it's the appropriate time for an oil change.
Your Certified Service technician will reset your Oil Life Monitoring System after every oil change. To reset the system yourself, ask one of our technicians how or consult your Owner's Manual.
OIL CHANGE WARNING SIGNS
Not paying attention to your oil life can be potentially dangerous, resulting in costly consequences. Below, you will find a number of indicators that will help you prevent damage to your engine.
Oil Life Monitoring System Prompt
When the CHANGE ENGINE OIL SOON message displays, service is required for your vehicle as soon as possible. In some cases, the Oil Life Monitoring System might not indicate the need for vehicle service for up to a year. The engine oil and filter must be changed at least once a year and the Oil Life Monitoring System must be reset.
If your vehicle is not equipped with an Oil Life Monitoring System, consult your Service and Maintenance Schedule located in your vehicle Owner's Manual.
Tailpipe Smoke
Heavy smoke from your tailpipe, perhaps with a blue tinge, is a strong indicator that oil is being burned within your engine. This can be caused by a number of factors. If you are experiencing any unusual tailpipe emissions, see your Certified Service experts right away.
Oil Leaks
One of the most immediate signs of an issue with your oil is a noticeable leak. If you detect a leak, address it with your Certified Service expert as soon as possible. Catching a problem early can save you time and money and prevent a potential roadside emergency.
Oil Pressure Low/Oil Level Low
Low engine oil pressure or low oil level can cause extreme and costly damage to your engine. If this message displays, safely bring your vehicle to a stop as soon as is practicable. Check the oil level immediately or contact Roadside Assistance to get you on your way or to bring your vehicle to a Certified Service dealer.
Under-Hood Smoke
One of the most recognizable and dangerous oil warning signs is visible smoke coming from your engine. Oil leaking within the engine compartment burns when it drips onto hot engine parts and can be potentially hazardous. Leaks of this type should be addressed immediately by roadside assistance.
Huron Motor Products | Auto Services | Brake Service & Repair
Brake Service & Repair
When you need brake service, visit Huron Motor Products. Your Certified Service experts can provide you with advice on a variety of quality brake parts and help you get safely—and confidently—back on the road.
30 DAY PRICE MATCH ON BRAKES
If you purchase an aftermarket brake from Huron Motor Products and later find a better price on a similar brand within 30 days of the purchase, we'll refund the difference.*
Signs Of Regular Wear On Brake Pads, Shoes, Hoses, Calipers & Rotors
The major components of a braking system, listed below, will need to be repaired or replaced as part of regular brake service and maintenance.
Brake Caliper
The brake caliper is a hydraulic clamp that pinches the brake pad onto the brake rotor.
Signs of wear:
- Brake lockup
- Vehicle pulls to the left or right when brakes are applied
- Reduced braking force
- Spongy brake pedal feel
- Brake pedal pulsation
- Longer stopping distances
- Fluid leakage near caliper
Brake Pads
These flat pads comprised of frictional material make contact with the rotor, bringing your vehicle to a stop.
Signs of wear:
- Chirping, grinding, or squealing noise
- Difficulty stopping
- Low brake-pedal height
Brake Rotors
Your brake rotors are rotating discs that help slow or stop the vehicle when brake pads make contact.
Signs of wear:
- Brake-pedal pulsation
- Squealing or grinding noise
- Low brake-pedal height
- Vehicle pulls to the left or right when brakes are applied
Information retrieved from mycertifiedservice.ca/brake-service-repair.html.
*Buy the following aftermarket brake brands: ACDelco Professional or ACDelco Advantage AND/OR the following tire brands: BFGOODRICH, BRIDGESTONE, CONTINENTAL, DUNLOP, FIRESTONE, GENERAL, GOODYEAR, HANKOOK, KELLY, MICHELIN, PIRELLI, UNIROYAL, KUMHO and if you find a better price on similar aftermarket brake brands within 30 days of the purchase, we'll refund the difference. Requires valid ad, written estimate or internet quote for identical new tire(s) AND/OR for select (Raybestos Professional, Wagner ThermoQuiet, Bendix, Satisfied Brakes, Raybestos Service Grade, Monroe/Certified, CarQuest Red, NAPA TruStop, Midas, Fountain Tire, KalTire, Centric, Wagner QuickStop) aftermarket brake pads, shoes, rotors or drums from a local competing retailer and installer located within 100 km of the dealer required during offer period for price match. Offer available to retail customers only at participating Canadian Chevrolet Buick GMC Cadillac dealers. Offer valid on tire and/or brake part (pads/shoes/rotors/drums) price only; cost of installation/labour not included in price guarantee from January 1, 2018 to December 31, 2018. GM Canada reserves the right to cancel, modify or amend the offer without notice. Conditions and limitations apply. May not be combined with other offers and programs.
Battery Inspection In Exeter, ON
Be absolutely sure your battery is at its best with a battery inspection. Should you need battery replacement for your vehicle, we proudly offer a wide range of auto batteries. Don't wait until your battery dies — have your Huron Motor Products Certified Service expert check your battery's health
Choosing The Right Replacement
Choosing the right battery can be tricky. If you have any questions, rely on your Certified Service experts at Huron Motor Products to help you choose the right battery for you.
Professional Series (car and truck batteries)
- A premium battery with many years of proven performance
- Standard warranties of 5, 6 or 7 years with free replacement up to 50 months
- Comprehensive coverage from small passenger vehicles to SUVs
- High grade materials and components ensure maximum performance
- Meets GM factory warranty replacement requirements
Advantage (car, truck and marine batteries)
- Offered at market-driven, competitive pricing
- Competitive limited warranty and free replacement limited warranty
- Manufactured with computer-controlled processes and/or monitored with dozens of quality control checks to help ensure ACDelco quality and consistency
Voyager Series (marine and RV batteries)
- Heat Sealed Case/Covers
- Built-in "Green Eye" hydrometer
- Contoured handgrips
- High Density Paste
- Wrought lead/calcium alloy
- Small window and center lug
- Thermoplastic reinforced plates
- High quality cast on strap and inter cell weld
- Cold forged terminal
Battery Warning Signs
Identifying the warning signs and getting your battery checked could save you from a more costly repair down the road. The service experts at your dealership test your battery's health with leading-edge diagnostic equipment.
If your battery is more than 5 years old, or if you're experiencing one of the warning signs listed below, bring your vehicle in for service...
You hear clicking or buzzing when you turn the ignition
Your vehicle has trouble or is slow starting
The eye (if equipped) on your battery is dark or clear
Common causes for battery failure include:
Loss of electrolyte due to age, under hood heat or overcharging
Leaving your lights on
Undercharging or loose alternator belt
Excessive vibration (loose hold-down or mounting)
Using tap water for electrolyte
Corrosion
Freezing
Battery Dos
Keep your battery and case clean. Dirt and other deposits can prematurely corrode battery terminals.
Check the cables to make sure they are firmly attached to the auto battery terminal.
Always disconnect your battery's negative cable first and reattach it last.
Charge in a well-ventilated area. The process of charging a battery releases highly flammable hydrogen.
Handle batteries carefully. A cracked case could spill harmful chemicals and cause severe burns and/or blindness.
Dispose of a battery in accordance with provincial, territorial, and/or local regulations.
Battery Don'ts
Wear jewelry when working with a battery.
Lean over a battery.
Guess as to what type/size of battery your vehicle needs.
Attempt to charge a frozen battery; doing so may cause the battery to explode.
Disconnect a battery's cables while your vehicle is running.
Wiper Blades In Exeter, ON
As a part of your regular maintenance routine, you, or your Huron Motor Products Certified Service expert should make a thorough inspection of your vehicle's wiper blades. Your Certified Service expert can check your windshield wipers and rear wiper blades as part of the Multi-Point Vehicle Inspection.
Should you need new wipers, your Certified Service experts can recommend a variety of wiper blades to suit your needs.
Conventional Wiper Blades
Advantage All-Season metal wiper blades are good replacement standard blades for value-conscious occasional drivers. Coating on the rubber helps reduce streaking, friction and noise and pre-installed universal adapters fit most wiper arms directly making installation easy.
Performance wiper blades offer high-strength steel construction with easy fit assembly. They possess corrosion-resistant epoxy coatings and the blade material is made from a natural rubber, which helps reduce streaking, friction and noise.
Beam Wiper Blades
Beam wiper blades offer an innovative curved frameless design that helps conform to the shape of your windshield and to provide constant pressure for a uniform wipe. A natural and synthetic blended rubber compound on the wiper material enhances wiping performance and durability in all weather conditions and the aerodynamic design helps reduce wind lift.
Winter Wiper Blades
Winter Wiper Blades are available in either a Conventional style or Beam Blade Style.
The Winter Beam Wiper Blade is a specialty blade and includes rubber boots to help prevent snow and ice build-up and a riveted steel superstructure for strength and durability.
If you haven't replaced your wiper blades in the past six months, visit Huron Motor Products and speak with one of our Certified Service experts. They can walk you through your choices and install the right set for your vehicle.
If your wiper blades are worn, you may notice that they:
Leave streaks or miss sections of your windshield
Leave a haze behind, blurring vision
Skip across the windshield caused by a curve in the rubber
Lift off due to deterioration in the wiper arm
Squeak because of worn blade edges caused by excessive friction
Cause windshield scoring in extreme cases, where the wiper has deteriorated
Multi-Point Vehicle Inspections In Exeter, ON
You don't want any surprises when you're on the road. That's why you should come in today for a Multi-point Vehicle Health Check. This will give you a thorough assessment of your vehicle by your Certified Service Experts.
KEEP YOUR VEHICLE HEALTHY
Want to be in shape for all seasons? Our experts can help make your vehicle road-trip ready. Our Expert Service Technicians can help you get the most out of your vehicle. Increase its longevity, by being aware of all potential threats. A simple multi-point vehicle inspection can detect any current vehicle hazards that need to be addressed right away, and ones that could potentially be hazardous in the future.
Call Us at (888) 387-1704.
WHAT YOU CAN EXPECT FROM A MULTI-POINT VEHICLE INSPECTION
Remaining Engine Oil Life
An inspection will determine your vehicle's remaining oil life percentage (applicable to vehicles with the GM Oil Life Monitoring System). This may be helpful, especially if you are approaching your next oil change.
Tire Wear
Your tires are what keep you moving safely down the road. The Certified Service experts check to make sure your tires are properly aligned, balanced, and in top shape. This will help ensure the optimum performance and safety of your vehicle.
Wiper Blades And Glass Condition 
The operation and condition of front and rear wipers are checked to make sure they will work well when you need them. A visual inspection of your windshield is completed to check for cracks or chips and may help prevent further damage down the road.
Fluid Levels
Fluid levels are checked, including brake reservoir and windshield washer, to be sure they are at optimal levels.
Brakes
An inspection is performed on the condition of your brake system, including lines, hoses, and parking brake as well as measurements of front and rear linings.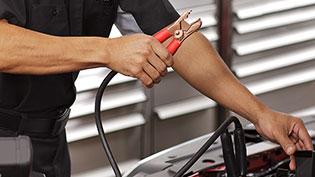 Battery Condition And Connections
A battery test will determine the health of your battery, and a visual inspection will check to be sure the battery cables and connections are in top working order.
OnStar Subscription 
A brief assessment will make sure you are connected with your OnStar® system subscription.
Additional Vehicle Inspections
An additional vehicle inspection of critical systems is performed to check for visible leaks that might indicate a concern. The condition of other vehicle components is also visually inspected.
Factory-Trained Technicians
Our Certified Service experts are GM factory-trained and experienced at working specifically on GM vehicles, so they know precisely what to look for. Nobody knows your vehicle better.